Video – Miguela Xuereb
A cultural shift is needed, says TM scheduled transport manager Ivan Pierre Vella Newsbook.com.mt in an interview that took place before the launch of the free public transport service.
The Maltese bus service will be free for all ages from October 1 just in time for Notte Bianca. The measure was announced in the last budget. Until then, government free travel programs applied to 14-20 year olds, Student Tallinja cardholders aged over 20, and Concession Tallinja cardholders who are disabled or over 70 years old. These initiatives were launched by the government as previous budget measures for 2019, 2020 and 2021.
Budget 2022: "Free public transport for all"
Asked how the transport authorities intend to encourage people to use public transport rather than their personal vehicles, Vella explained that the figures show an increase from the previous year.
"The mentality is slowly changing. Is it sufficient? It's never enough. If I go there and there's no car, I'll be happier," he said.
The director of Transport Malta observed that the Maltese have a "love affair" with their cars, however, the figures show a slow change in mentality. He added that one of the challenges would be for drivers not to clog buses on the roads.
"If people start taking at least one trip a week using public transport, we're talking about a significant number of cars on the road," Vella said.
He added that people should identify areas where it is more convenient for them to use public transport instead of getting to a place using their own car.
The authority also plans to launch public awareness campaigns.
Upgrading the software was the hardest part
Upgrading the software was the most difficult step as Transport Malta and Malta Public Transport prepared ahead of the launch of the free public transport service.
Before the service was offered free of charge to anyone holding a personalized Tallinja card, students and the elderly already enjoyed free public transport. However, this system has seen refunds made to eligible accounts.
This time around, those using the service will no longer need to have credit on their card in order to use the bus. Digitizing your card remains important, however, no amount of money will be reduced. Users who already benefited from free public transport have already been transferred to the new platform and now see "Validat. OK" when they scan their cards. This was done as part of the preparations before the service became free nationwide.
Vella added that Malta Public Transport needed to update the software used on all buses.
Asked if the fleet had been expanded, Vella said the world was emerging from a two-year coronavirus pandemic in which public transport had been affected due to near-lockdowns.
"During the pandemic, we have seen a drastic decrease in commuters. However, 2019 was a record year as there were over 59 million passenger trips – 59 million people used the buses," Vella explained, and observed that the numbers were slowly increasing. In 2019, the service was coping with demand, which means there is spare capacity, the director explained. Transport Malta has been analyzing routes and journeys since January. This is an ongoing study, Vella said, adding that it is being updated.
An increase in the number of students and elderly people using free public transport has been observed, Vella told this newsroom, adding that it has happened at a different pace. Older people began to use public transport more frequently when the service was offered free of charge.
The increase in both cohorts was observed to increase from previous years.
Recharging is no longer necessary
Vella pointed out that recharging his card will no longer be necessary, however, he pointed out that the card can be used to take ferries, and added that these services are not free.
Daytime services, nighttime services and special services should become free, however, the direct and on-demand service from Tallinja will still be chargeable.
From Nov. 1, those who get the money back on their cards can request a refund, Vella added.
The TM manager also clarified that anyone with a personalized card can avail of the free bus service as it will not be limited to residents.
Commuters still need the Tallinja Card for free bus rides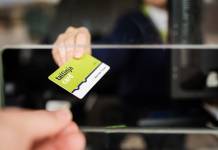 Card scanning remains important
From October 1, it will take three things to board a bus, either a personalized card, or buying a ticket on board, or being in possession of the prepaid card. A fine of €50 will apply to any passenger caught without a transport card or receipt.
Vella explained that digitizing its card remains of the utmost importance, as it will allow authorities to collect and analyze data on usage, frequency and demand.
"Without having these figures in hand, we cannot intervene in time. We can speculate or base our interventions on complaints, but that is not enough. We need the raw data from the different routes," Vella said.
"People need to scan their cards," he reiterated, adding that transport authorities do not have access to personal data of commuters, but they will know how many passengers have boarded a bus from a given bus step at a given time. time and date.
Transport Malta also has a team of people monitoring the situation at bus stops.
When asked if ticket prices would change, Vella observed that they had remained unchanged for 11 years. Tickets on board cost €1.50 in winter and €2 in summer.
"I don't expect prices to rise anytime soon, but it could be that prices will harmonize later," he concluded.
Watch the full interview
BE THE FIRST TO RECEIVE THE LATEST NEWS
Download the Newsbook app