A 28-year-old Chicago man was sentenced to 30 months in federal prison on a weapons charge related to a drive-by shooting in La Crosse.
Keith T. Jones pleaded guilty on December 15, 2021 to being a felon in possession of a firearm. His sentence, imposed by Federal District Judge James D. Peterson, also includes three years of probation.
Jones was arrested after La Crosse police responded to an August 24, 2020 complaint of shots being fired. Police determined that multiple shots were fired from a gray van, and several residents reported gunshot damage to their homes, including a bullet that entered an occupied bedroom.
The next day, police located the van, in which Jones was an occupant. Police searched the vehicle and reportedly recovered a loaded Taurus 9mm handgun and a spent 9mm cartridge case from the driver's seat. The handgun was identified as the same weapon used in the shooting, and further investigation identified Jones as the shooter.
Co-defendant Antwan Taylor, who was also identified in the shooting, previously pleaded guilty to being a felon in possession of a firearm and was sentenced to five years in federal prison on Dec. 2, 2021.
The charge against Jones was the result of an investigation by the La Crosse Police Department and the federal Bureau of Alcohol, Tobacco, Firearms and Explosives.
Jones also faces local felony charges of first-degree reckless endangerment and possession of narcotics. His next court date is a May 19 calendar appeal in La Crosse County Circuit Court.
Crimes Committed by La Crosse County Circuit Court in January
Jamie M. Scafe
Tyler P. Yogas

Mario S Street.

Tylar M. LeFebre

Gregory Timothée Loftus

Samantha R. Fish

Michael E. Poivey

PengLo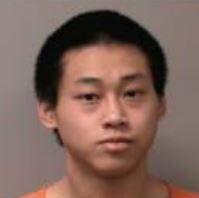 Pedro M. McKee Sr.

Jared L. Cooper
Macey R. Bills

Michel David Mitton

Emily N. Dolan

Teal M. Herold

Jacob C. Vosseteig

Trevor A. Johnson

judge court gavel