The former boyfriend of a woman who suffered catastrophic brain damage when she fell from a van he had taken her in has had his prison sentence increased.
Chay Bowskill, from Syston, Leicestershire, picked up Angel Lynn in a van driven by her friend Rocco Sansome as she tried to get away from him after an argument in September 2020. She was found seriously injured on the pavement of the 'A6 near Loughborough, and remains in hospital requiring round-the-clock care.
Bowskill was originally sentenced to seven and a half years in prison for kidnapping, coercive behavior and perverting the course of justice. His sentence was increased to 12 years by appeals court judges on Wednesday, after finding that his original sentence for the kidnapping was not long enough.
Sansome, 20, from Birstall, Leicestershire, had been convicted of kidnapping and sentenced to 21 months in prison; his sentence was not changed.
Summarizing the judges' decision, Dame Victoria Sharp said: "We have concluded that the sentence imposed on him for the kidnapping was unduly lenient." She said the original term "did not reflect the seriousness of the kidnapping" and the harm caused to Lynn as a result.
The judge said Sansome's sentence 'should have been longer' but given all the circumstances, including the fact that he is about to be released, the court decided not to. to modify.
Speaking in court after the ruling, Lynn's aunt Jackie Chamberlain said the family were "relieved" by the increased sentence.
She said: "We are very grateful to the British public, who have supported us as a family throughout the process. We can put that behind us now. We can move on. She also thanked Women's Aid for their support.
Both men were convicted after a trial at Leicester Crown Court in January.
CCTV footage played to jurors showed Bowskill grabbing Lynn as she walked away from him after an argument and putting her in a silver Transit van, which was chased away at pace by Sansome.
The defense claimed Lynn accidentally jumped or fell in the road and Bowskill was cleared of causing grievous bodily harm.
Lynn's family referred the sentence to Attorney General Suella Braverman under the overly lenient sentencing scheme.
"I don't think a sentence is long enough, as far as we're concerned," Angel's mother, Nikki Lynn, said in an interview with The Guardian. "But we want to get on with our lives now and focus on caring for Angel."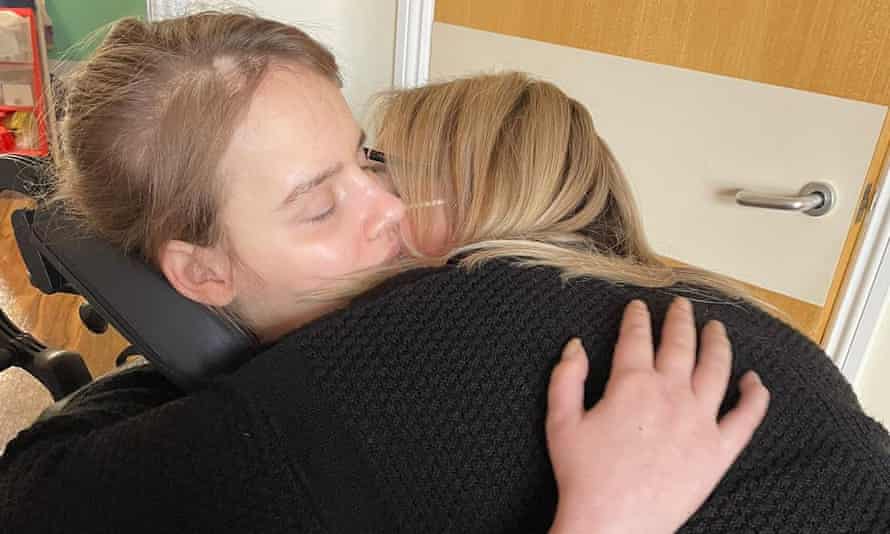 The 21-year-old is unable to walk or speak and is being fed by a tube, although her family are hoping her condition is improving as she has started shaking hands in response to questions.
"His eyes looked gray before; it didn't look like it was there, there was nothing inside," Nikki said. "She has really bright blue eyes, and you can see now that they seem more alive, the color is more visible. She's definitely in there.
Her family have raised £129,000 to help fund a life of care for Angel, and they hope to build an extension onto their home so she can be brought home soon, although they have been warned the care bill could run into the millions.
"I just want her home so I can do things with her and take her out and take care of her," Nikki said. "It must be awful for a 21-year-old to have to be changed and washed by strangers every day."
She described her daughter as a "girly girl" who enjoyed hanging out with friends, doing her hair and applying makeup, but was also very active and enjoyed riding quad bikes and jet skis.
"She was so outgoing before. Being stuck in a bed all day and breathing unassisted now, is that the best we can hope for for the rest of our lives? said Angel's aunt, Jackie Chamberlain, adding that the family believed the sentences for Bowskill and Sansome would have been much harsher if Angel had died.
"But she has no life at all. She has been on life support for two years. Her life is completely ruined: she will never get married, will never have children, she will never have a job, they have ruined her whole life," she said.
The family said a recent campaign launched by the government to highlight the dangers of coercive control was not enough.
"We believe the sentencing structure should be considered as a whole, because even maximum sentences are far from sufficient," Chamberlain said.
"We have become members of a club that we never wanted to be part of. You watch all the stories on TV, all the women who have been killed, and you feel so far away from that. But when something like It happens to you, everything becomes clear It happens so much and it only gets worse Where will it end?
Sharp said Bowskill must serve two-thirds of his sentence behind bars before he can be released.