UPDATE: A memorial service for the two police officers killed at Bridgewater College on February 1 – JJ Jefferson and John Painter – will be held at 11 a.m., Wednesday, February 9 at the Atlantic Union Bank Center on the campus of James Madison University, 645 University Boulevard, Harrisonburg, Virginia. The service will be open to the public.
UPDATE: Alexander W. Campbell, 27, of Ashland, Va., charged with killing two police officers at Bridgewater College on February 1, was appointed as a lawyer on February 2. His arraignment in Harrisonburg/Rockingham County Circuit Court continued through February According to a Virginia State Police spokeswoman, Campbell is still being held in the Rockingham County Jail without bail for the following charges:
1 count of aggravated murder of a police officer
1 count of first degree murder
1 count of aggravated murder of multiple persons within 3 years
1 count of aggravated murder of several people
1 count of possession of a firearm in the commission of a felony
A law enforcement procession to bring Bridgewater College Police Officer John E. Painter, 55, and Bridgewater College Campus Security Officer Vashon A. "JJ" Jefferson, 48, back to the Roanoke house will be Thursday, Feb. 3 around 2 p.m. along Interstate 81.
A GoFundMe account was set up by Bridgewater elders to cover the cost of the funerals and memorials of the two slain officers. More than $87,000 had been raised by 10 p.m. Wednesday night; the fundraising goal was $50,000.
ORIGINAL STORY: Fauquier High School alumnus Vashon "JJ" Jefferson was one of two police officers killed at Bridgewater College today, Feb. 1, according to Virginia State Police. Alexander Wyatt Campbell, 27, allegedly shot and killed John Painter, 55, an officer with the Bridgewater Police Department and Jefferson, 48, a security guard at Bridgewater College.
Campbell was arrested this afternoon and charged with four felonies, including two counts of capital murder, one count of first degree murder and one count of using a firearm in the commission of a felony.
At a Tuesday night press conference at the college, Virginia State Police spokeswoman Corinne Geller said police were notified shortly before 1:20 p.m. of a "suspicious person." on the campus. Geller explained that Campbell was described as "suspicious" because he "was in a place where he shouldn't have been".
After Painter and Jefferson spoke with the suspect for a few minutes, he shot both officers and fled, Geller said.
She said in a press release Tuesday evening: "Immediately following a 911 call, the Bridgewater College Police Department, the City of Bridgewater Police Department, the Virginia State Police, the Sheriff's Office of Rockingham County, the City of Harrisonburg Police, the Augusta County Sheriff's Office, the City of Dayton Police Department and the Virginia Department of Wildlife Conservation Police immediately responded to the scene and a search was immediately launched on campus.
"A male matching the description of the shooter was located on Riverside Drive in the town of Bridgewater. He then waded into the river and onto an island in the North River, located in the town of Bridgewater. Rockingham County Sheriff's Deputies and VSP Special Constables took the individual into custody without further incident," the statement continued.
Geller told the press conference that Campbell suffered non-life-threatening gunshot wounds when he was found, but it's unclear if they were from an officer's gun or if it was self-inflicted, Geller said. She said Jefferson was unarmed.
Campbell received treatment for his injuries and was discharged from hospital. He is currently being held in Rockingham County Jail. Geller said multiple firearms that were connected to Campbell were found, both on and off campus. No motive for the killings has been reported.
Kayla Ferrell of Warrenton remembered Jefferson when he worked at Shenandoah University as an officer in the Department of Public Safety and was a student. She recalls: "JJ was the nicest guy! He always had a big smile on his face and made me laugh. She said she knew Jefferson well when she was a resident advisor at the college.
"He called me 'Fauquier' because we were both graduates of Fauquier high school. When I was on weekend duty as an RA, I was always so happy when JJ was also on duty. He always made everything more fun. He really cared about the students. He was the officer on campus who went out of his way to really get to know the students and spend time with them.
"When I was in graduate school, I stayed until the middle of the night studying. JJ was making his rounds and saw my light on and flashing his flashlight at my window. I would go out on the balcony and some evenings we would chat…laughing about this or that.
Ferrell said she stayed in touch with Jefferson through Facebook. "He just got married last July," she said.
The president of Shenandoah University sent an email to alumni tonight that read, "I write with heartbreaking news. I know you are all aware of the events that unfolded this afternoon at Bridgewater College where two officers were shot in an active shooter incident…
"We were devastated to learn that one of our beloved former Shenandoah University Department of Public Safety officers, Vashon "JJ" Jefferson, was killed today in the shooting in Bridgewater. , where he served as a campus security officer.
"JJ took classes while working at Shenandoah from 2012-2018 and was promoted to sergeant in 2013. JJ received a Wilkins Award from SU in 2017 in recognition of his initiatives to rethink campus safety by focusing on student and community relations.
"He was known for walking every square inch of the main campus throughout the evenings, meeting students and getting to know them well. On social media, his colleagues and SU students remember him as having a commanding presence, a warm smile and a laugh that would echo down the halls. He would never just secure a building at night; instead, he greeted everyone he met with genuine care and interest while securing the buildings – and whenever he had a spare moment, he stopped by games or SU rehearsals to encourage our students.
"Our thoughts and prayers go out to Shannon Oates Jefferson, JJ's wife and a former Shenandoah student who graduated in 2014."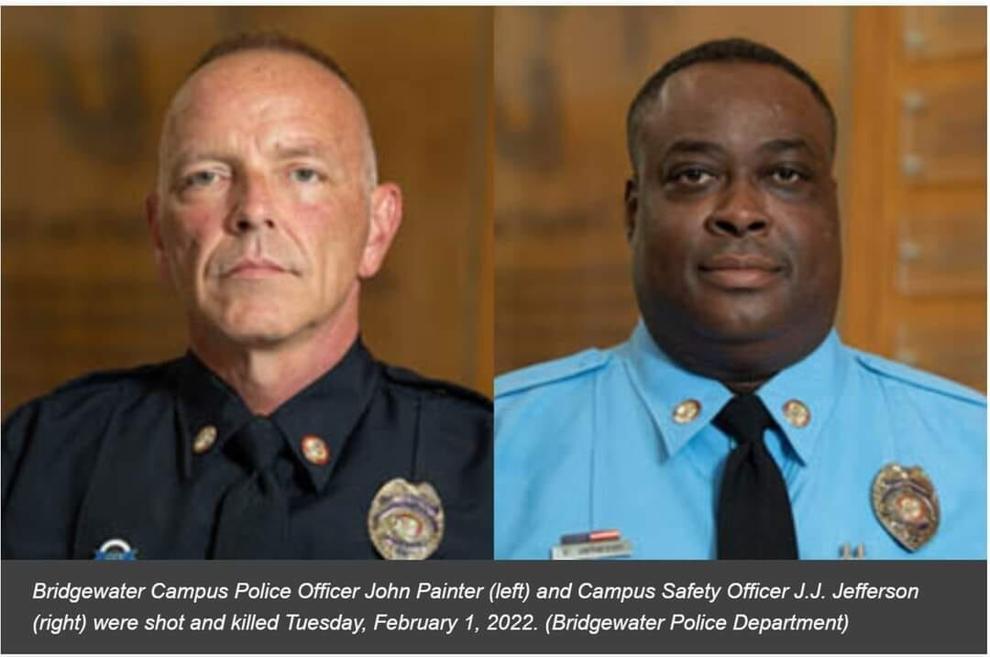 Bridgewater College President David Bushman said at the press conference, "Words will never be enough to express our sadness and grief. People we love have lost people they love.
He described the Bridgewater College community as devastated and said in a social media post: "Today our campus community suffered an untold tragedy. Two members of the Bridgewater College family were taken from us in a senseless and violent way. The sadness is palpable. Words are far from enough to express the grief, sadness, fear, and rightly so, anger we all feel.
"Campus Police Officer John Painter and Campus Security Officer JJ Jefferson were shot on campus while protecting us. These officers were close friends, known to many of us as the" dynamic duo". John was JJ's best man at his wedding this year. They were loved by students, faculty and staff. I feel bad for their families and loved ones, as I know we all do.
"This is a sad and gloomy day for Bridgewater College. I know we all have so many questions and not many answers. One thing I do know, however, is that we will rally together and we will we will support as we move forward from this day. We are all victims, although some are much more so than others, and it will be important that we each seek comfort and support in whatever way is most more meaningful to us.
Governor Glenn Youngkin ordered the flags of the Commonwealth to be flown at half-mast on February 2, in remembrance of officers JJ Jefferson and John Painter.