Cheryl and Alton Thacker, seated, listen to their daughter Ashley Krause speak at a retirement party for them on Saturday. The Thackers pass ownership of the Tiny Tim's Foundation for Kids to Krause and their granddaughter Emilee Johnson who will continue to make wooden toys to gift children in need. (Cassidy Wixom, KSL.com)
Estimated reading time: 5-6 minutes
WEST JORDAN — Alton Thacker recalls a little girl in Mexico whose eyes lit up when she played with a wooden toy car for the first time, laughing as she rolled the car on her stomach and marveling at the light reflecting off the car.
"When a little person gets a toy, it starts their mind," Thacker said Saturday.
Thacker felt pure joy during this experience and for 26 years he and his family have been making miniature wooden cars for children all over the world. Thacker and his wife Cheryl founded the Tiny Tim's Foundation for Kids in 1996 with a mission to provide toys to those in need. Through purely volunteer work, their foundation has made and donated toys to over a million children around the world.
"I had no idea what we were getting into when I saw this little girl with this car. And I saw how much joy it brought her," Cheryl Thacker said. "We had no idea what would become of us. We just saw a need for little kids to have toys."
Cheryl Thacker said Tiny Tim's was an eye opener and brought so much joy to her and her husband.
But now, at 87, Thacker and his wife are retiring and passing the business on to their daughter Ashley Krause and granddaughter Emilee Johnson.
"Ashley and Emilee are just, they're going to go above and beyond what we've always dreamed of," Cheryl Thacker said.
A retirement party was held for the Thackers on Saturday, where food was served and a silent auction gave attendees the chance to bid on crafts, wooden toys, quilts and gift baskets.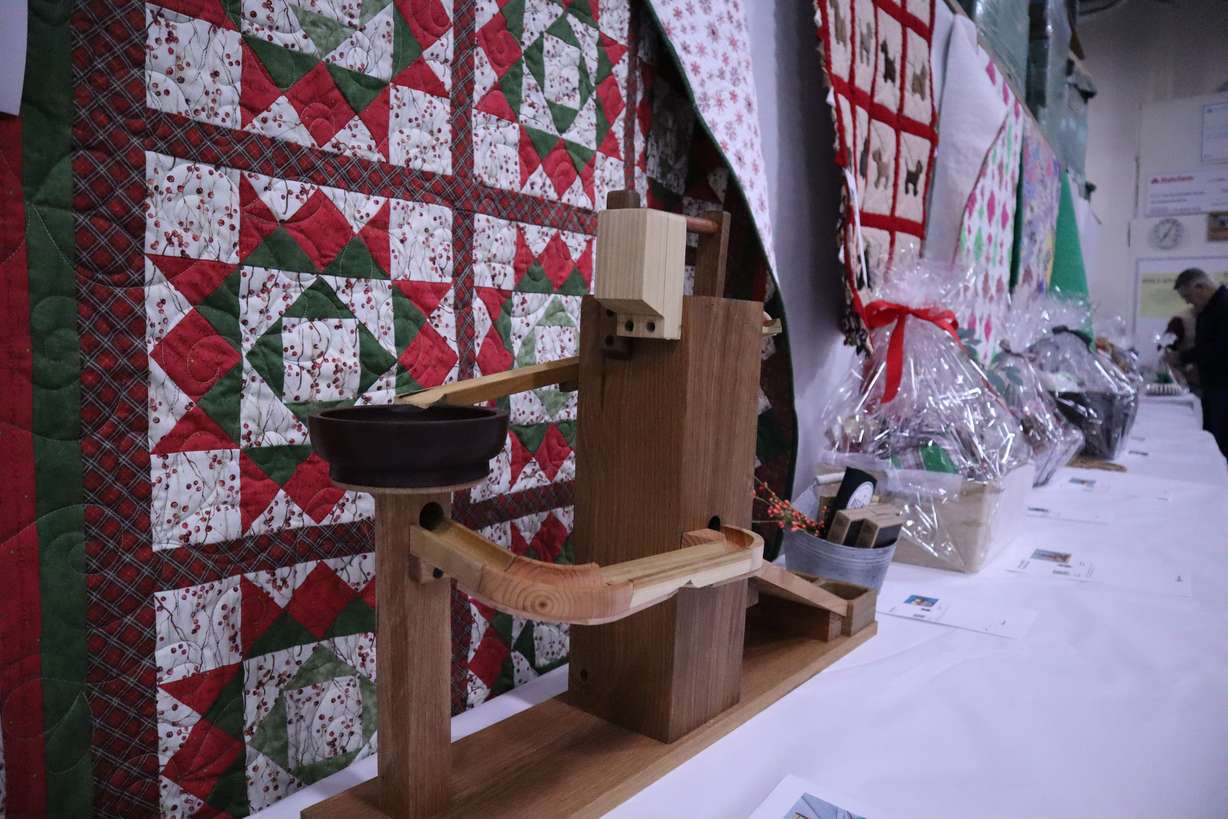 Thacker said he knew his last day was coming as he announced a month ago, but he didn't have tears in his eyes until this morning when he entered the factory in toys.
"My heart is here in my throat. So I'm not going to say anything more, other than thank you, thank you for making this possible," Thacker said during a speech at the party.
Johnson has been involved with the Toy Factory since she was in high school, and her help over the past 26 years has made the foundation dear to her heart. As executive director of Tiny Tim's, she and Krause will ensure the company continues to help more children experience the joy of a toy.
---
If you really want to be happy, you're doing something for someone else.
–Alton Thacker, Tiny Tim Children's Foundation
---
"The hardest part is knowing that one day they won't be around. But it's an incredible legacy," Johnson said of her grandparents with tears in her eyes.
Johnson explained that Tiny Tim's was not designed to bring fame to toymakers, but to provide a place for people to serve and give toys to children who have never had a toy before or who need help.
Krause said most people who visit Tiny Tim's are blown away by what he accomplishes. "People walk into this factory and the smell of wood and the feel hits them and they're just in awe," Krause said.
She calls Tiny Tim's a "welfare mafia" because of the good she creates. Krause says she doesn't know who gets the most out of the service: those who receive the cars or those who build the cars for others.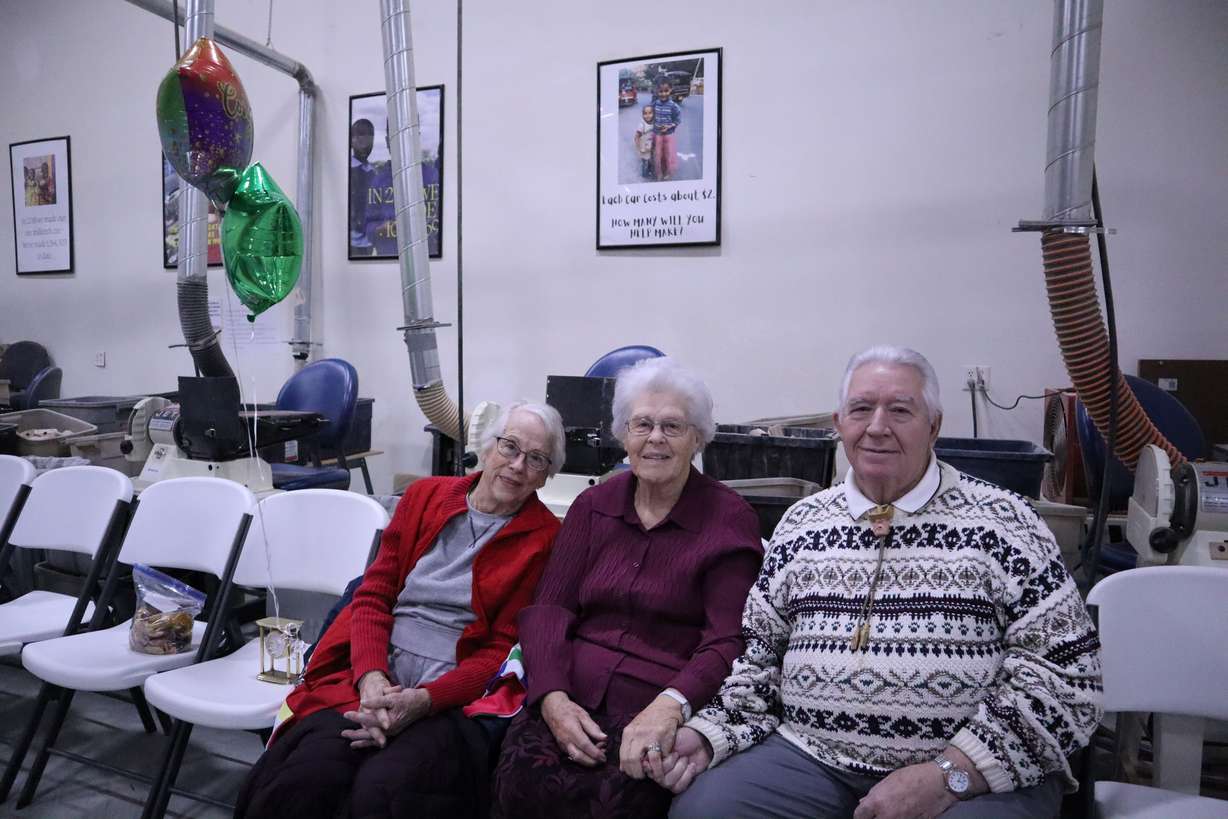 Silent auction items were made by Tiny Tim's carpenters or donated by local businesses. All money from the auction went directly to the foundation to continue its efforts.
More than 100 people showed up to congratulate the Thackers, thank them for their service and remember the positive impact the organization has had so far.
Bradley Larsen, Krause's daughter and Thacker's granddaughter, said her first memory of Tiny Tim was when she was 8 years old. Her family decided to give up their Christmas that year so they could travel to Mexico and give Christmas to the people there.
---
The real fulfillment you'll find in life is doing things for others and I think that's what Tiny Tim's is all about.

–Bradley Larsen
---
"It was by far one of the most amazing experiences I've ever had," Larsen said.
Because of the examples of her grandparents and family, she decided to give her coat to another little girl she met.
"I felt so good. It's something my grandfather always said I never understood, it's how much doing something for someone else really makes your life better," she said.
Larsen is grateful to be part of a legacy of service and love that her grandparents started.
"The real fulfillment you'll find in life is doing things for other people and I think that's what Tiny Tim is all about," Larsen said.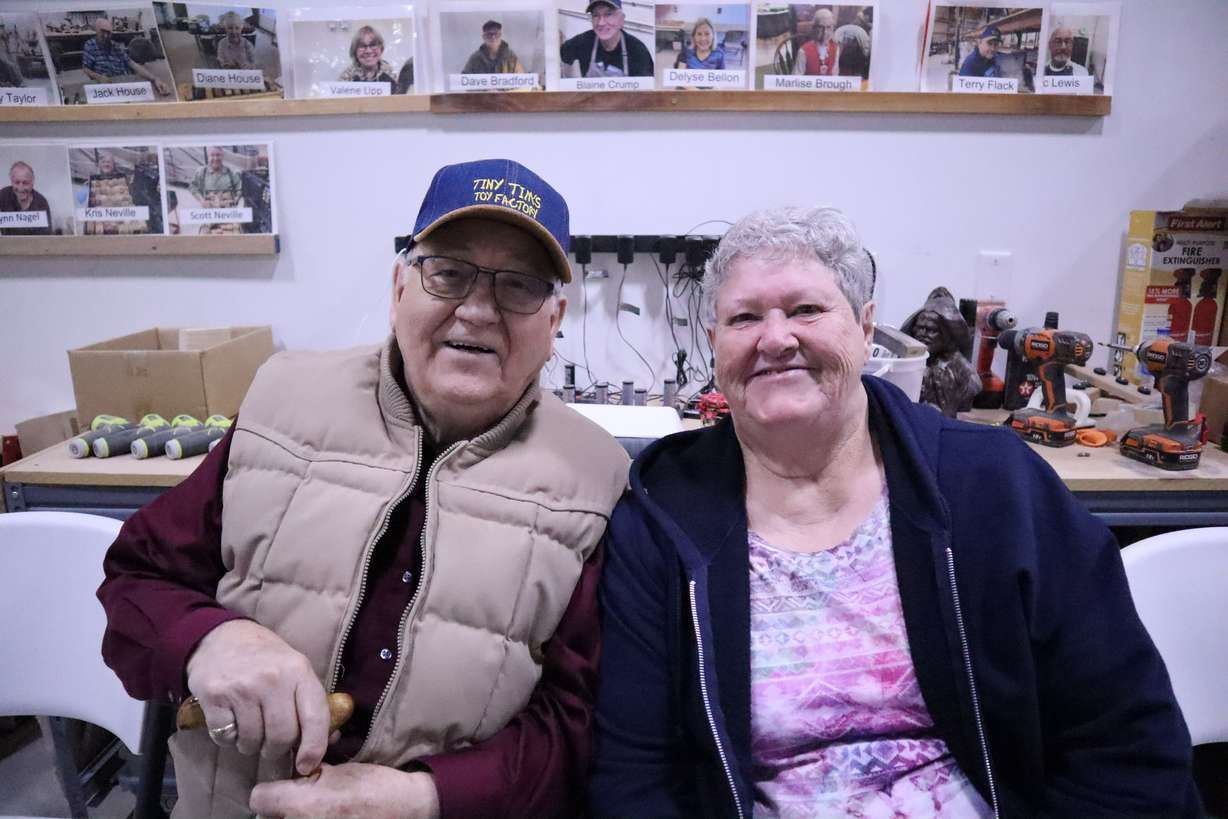 Tiny Tim volunteer Randy Taylor helped Tiny Tim sign up for JustServe to increase the number of car building volunteers.
Taylor has been volunteering at the toy factory for two years now building cars and said it's hard to imagine the impact Tiny Tim's has had on children around the world.
As a retiree, Taylor finds volunteering at Tiny Tim's a good use of his time and derives great satisfaction from serving there. "I love the place," he said.
Thacker plans to keep coming to work at the factory, because retirement for him just means he can come to work when he wants and not come when he doesn't.
"It was a fun race," Thacker said. "If you really want to be happy, you do something for someone else."
×
Pictures
Last family stories
More stories that might interest you