Every Royal Caribbean cruise offers a 24-hour room service menu where you can enjoy breakfast, lunch, dinner, snacks, and dessert delivered to your cabin. Extremely convenient, room service is something many cruise passengers appreciate, especially those who like to enjoy a private meal on their balcony.
Understanding the ins and outs of Royal Caribbean's room service offerings and policies is good to know before your cruise begins.
Let's dive into our guide and tips for ordering room service on a Royal Caribbean cruise.
How much does Royal Caribbean room service cost?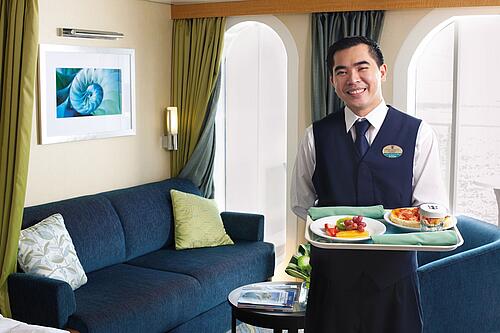 Royal Caribbean room service (other than free continental breakfast) is $7.95 per order per room. This is a fixed cost, so you will pay the same costs whether you order one dish for one person in a cabin or ten separate items for four people in a cabin.
An 18% gratuity is added to the $7.95 charge for a total cost of approximately $9.40.
Also, while tipping is not mandatory, it is customary to give a small cash tip ($1-$5) to the crew member providing room service to your room.
When and how can I order room service?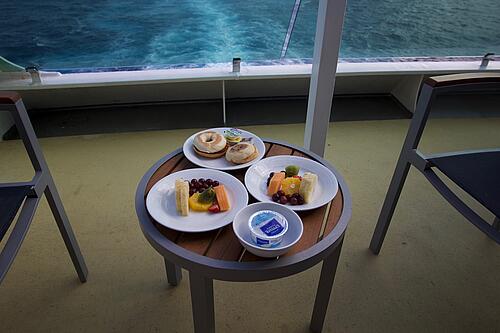 In-room breakfast is served from 6:00 a.m. to 11:00 a.m. each day of the cruise, except the day of disembarkation. All other room services are available from 11:00 a.m. to 6:00 a.m.
Ordering room service from the breakfast menu can be ordered through Royal Caribbean's door hanger menus or by calling room service from your stateroom phone.
The door hanger menu is a breakfast menu where you tick off the items you want to order, the quantity of each item, and the time you want breakfast delivered. After selecting your order, hang the menu outside your stateroom door. Menus must be placed on your cabin door no later than 3:00 am on the morning you would like in-room breakfast.
When you arrive in your cabin on the first day of the cruise, you should find a stack of room service breakfast menus in the cabin drawer or desk. If you don't see one, ask your cabin attendant to deliver the menus to your room.
The door hanger menu only exists for breakfast, so all other room service orders must be placed over the phone.
Read more: Food on a Royal Caribbean cruise
Does Royal Caribbean offer free room service?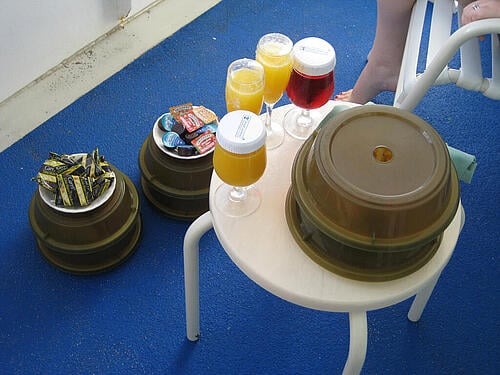 Royal Caribbean's continental breakfast menu is free, and while the menu is limited, this can be a big plus for passengers on board.
The continental breakfast menu offers the following items, although it is subject to change between sailings:
Toast (wheat, white, gluten-free)
plain bagel
english muffin
Donuts (glazed, chocolate)
Baked pastries (Croissant, blueberry muffin, assorted pastries)
Jams and assorted spreads (strawberry jam, honey, cream cheese, butter, etc.)
Cereals (Special K, Corn Flakes, Frosted Flakes, Raisin Bran, granola, rolled oats, oatmeal)
Fruits (apples, oranges, bananas, fruit plate)
Yogurts (plan, fruit)
Continental breakfast drinks include juices (apple and orange), caffeinated and decaffeinated coffee, tea (black, green and herbal) and milk (regular, chocolate, fat-free, lactose-free and half- half).
Continental breakfast is the only free room service option available on Royal Caribbean for most guests. However, passengers in Grand Suites and above (any suite except a Junior Suite) receive complimentary 24-hour room service.
American breakfast menu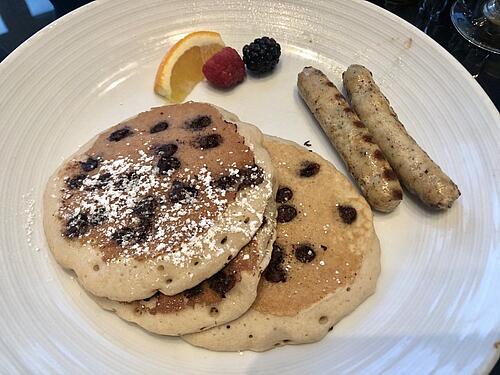 Aside from the continental breakfast, an American breakfast menu is included with the standard $7.95 room service charge. Items from the American breakfast menu can be ordered at the same time as the continental breakfast menu.
The American breakfast menu offers more cooked-to-order items:
Scrambled eggs
Scrambled egg whites
scrambled egg beaters
Omelettes (plain, ham and cheese)
Fried Eggs (Sunny Side, Medium, Easier, Harder)
Buttermilk pancakes (plain or blueberry)
Hash browns
Bacon
pork sausage
Chicken sausage
All day room service menu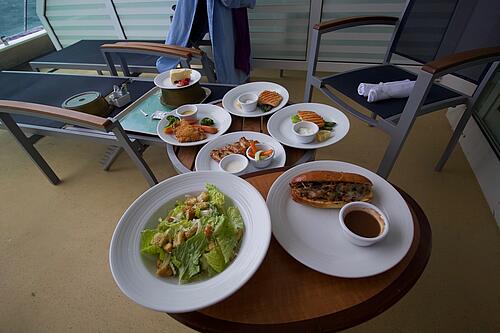 In addition to breakfast, room service is available all day from 11:00 a.m. to 6:00 a.m. and offers a variety of lunch and dinner options as well as desserts. Whether it's a high tea, dinner or late night meal, you're sure to find something that interests you on the room service menu.
Here is a sampling of what may be included on the room service menu, although this may change:
Soups (chicken, noodles and tomato)
Salads (cobb, greek, caesar)
Chicken Tenders
The Royal Burger
Grilled cheese
hot dog
Philly cheesesteak
Rigatoni Bolognese
Grilled salmon
Grilled quesadilla
Cheese or pepperoni pizza
Fried chicken wings
PB&J
Accompaniments (fries, side salad, chips)
New York Cheesecake
Chocolate cake with caramel sauce
Cakes with chocolate chips
Platter of fresh seasonal fruits
Why should I order room service?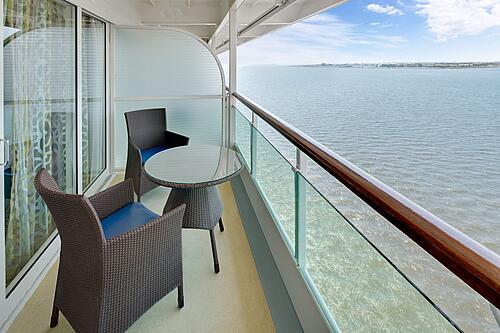 First, room service is extremely convenient. It may seem crazy to order meals directly to your cabin when there are so many dining options elsewhere on board, but the ease of dining in your cabin without having to get ready to go anywhere can be a favorable option.
Plus, in-room breakfast can be especially nice on port days when you've booked an excursion that starts early in the morning, especially if you have kids to prepare for the tour. Being able to have breakfast in your room while you get ready for the day can be a lot easier than bringing the whole family to a place like the Windjammer for a rushed breakfast.
Room service can also be a great option if you have a balcony, as you can enjoy a private meal on the balcony with beautiful ocean views. The balconies also include a small table, making it easy to have a meal there.
Are drinks included with room service?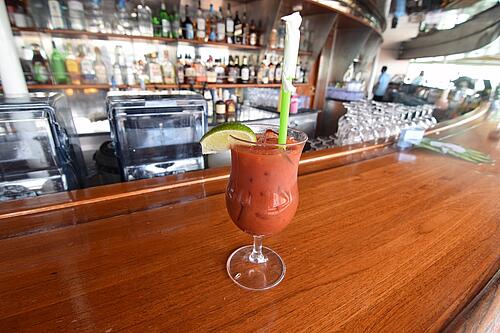 Drinks are not included in room service, even if you have a drinks package. The American breakfast menu, for example, offers a mimosa and Bloody Mary, but these will be charged at current bar prices (plus tip).
If you have a drinks package, it's usually better to walk to an onboard bar and bring a drink back to your room than to order drinks from room service.
That being said, you can still order drinks to your room even if they come at an additional cost.